This week the world celebrates 'Earth Day', a poignant reminder of the imminent need to take action against climate change and overcome the challenges of sustainable living. From an internal business perspective, we work to be as environmentally efficient as possible in our day-to-day business activities. Still, it is undeniable that the industry we are working in has a negative impact on our planet and a direct impact on the sea.
Some owners are beginning to demand innovation and sustainable designs from shipyards, particularly amongst wealthy millennials who, as a generation, are more environmentally conscious. A big appeal from charter guests is the ability to seek out idyllic locations and enjoy the diverse marine life, so it is arguably in owner's and shipbuilder's best interests to look at more sustainable practices to preserve these destinations.
Sustainable design
For many, sustainable yachting starts at the design level, and in recent years we have seen an increase in hybrid yachts, which combine traditional and innovative technology, to limit carbon footprint.
Back in 2006, Michele Maggi began researching the possibility of an effective hybrid system for superyachts, subsequently creating the first hybrid system e-Motion. After years of research and challenges, e-motion had a significant breakthrough in 2015 with the installation of a hybrid system onboard a 31m Sanlorenzo, which combined diesel and electric power. Now the clear market leader, this system allows captains to easily switch between electrical propulsion and traditional diesel combustion engine.
So, what are the environmental benefits of a hybrid system?
Fuel consumption is reduced by up to 30%
Reduces yachts' yearly C02 emissions
Reduced engine running hours on propulsion engines and generators
Reduces environmental exhaust and water pollution
High-tech wastewater treatment systems are another way superyachts are improving their eco-credentials. Artefact is an 80m hybrid yacht designed by German shipbuilders Nobiskrug, and a triple winner at the 2021 BOAT design and innovation awards. For many she sets the new standard, becoming one of the first yachts to meet the IMO Tier III emissions regulations. All wastewater onboard is recycled for technical water. The yacht has also been designed using a dynamic positioning system, requiring no anchor, avoiding damage to the seafloor and marine environment.
In addition to onboard systems, yacht builders Benetti and Heesen are taking steps to reduce energy wastage at the yard by harnessing the benefits of solar power. Benetti has developed a sophisticated solar thermal system that allows them to reduce their gas consumption by up to 50%.
Sustainable materials
Great leaps have been taken, but common boatbuilding materials are holding the industry's ecological advancements back. This is fibreglass or FRP (Fibreglass Reinforced Plastic). Fibreglass boat construction became popular in the 60s and is still leading the way due to its strong, lightweight, and corrosion-resistant properties.
The problem with FRP? In Europe alone, 250,000,000kg of glass fibre composite ends in landfills every year. The waste management of these composites is a critical issue as the material can't be reprocessed. In 2017, the Marine Industry estimated that worldwide between 35-40 million boats are now approaching the end of their life. With many of them heading straight to landfills, this creates a growing problem for an industry attempting to transition into more sustainable practices.
ExoTechnologies: the solution to sustainable yachting?
ExoTechnologies is a solutions and investment company 'focused on accelerating high-potential and pioneering resource efficiency projects that are capable of accelerating the green transition to a circular economy'. We spoke to the company co-founder and Chief Innovation Officer, Jeroen Wats, about how ExoTechnologies, and its composite DANU, an alternative to fibreglass, can contribute to a more sustainable yachting industry and pro-long a yachts life cycle.
Tell us about your background in the industry and how you became involved in Exo Technologies?
"Since I was a little boy, I have always been passionate about sailing. From little dinghies I grew into keelboats and from offshore racing into ocean racing. After winning the Cape 2 Rio (Cape Town to Rio de Janeiro) ocean race I started to build and develop high-performance racing yachts. I did this for more than 16 years. Yet I started to learn that I did something amazing at one end, yet very bad at the other end. Making boats out of pollutive materials without an EOL (end of life solution)."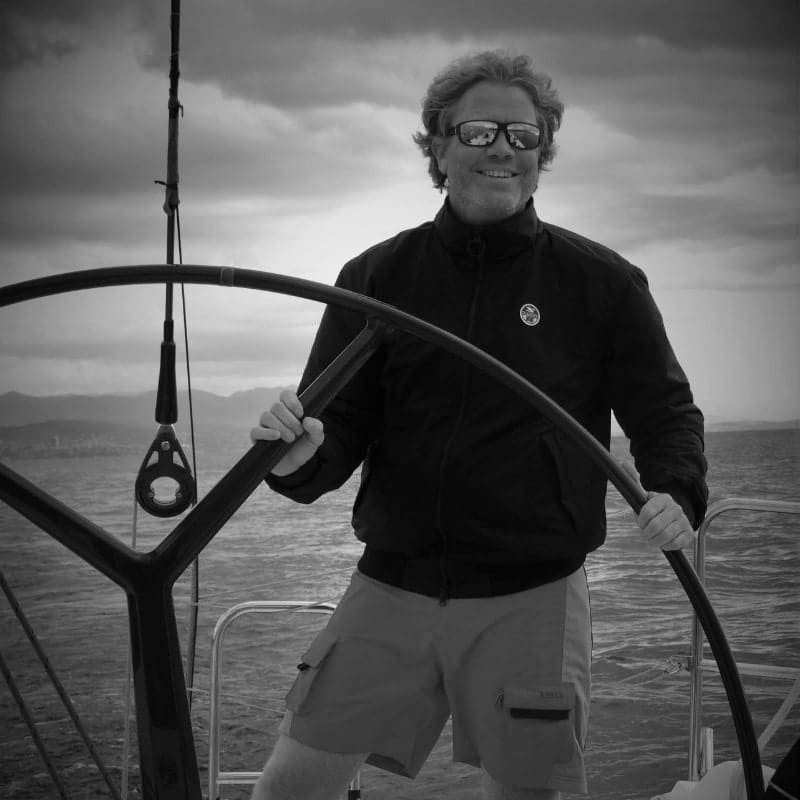 "My passion for the planet is bigger than my passion for yacht building. I love the sea, raced the oceans. And it is in any human nature to protect what you love. So I put experience, concern and curiosity in a blender, stopped building boats and started to invent the holy grail in sustainable, circular and super strong composite. This road is the ExoTechnology road."
How can ExoTechnologies composite make a positive impact on the transition to a more sustainable superyacht industry?
"DANU composite has a wide range of applications. The ingredients are the same, but the recipe is different. So, DANU is divided into segments of usage. ExoMarine for yachting, ExoWind for Wind turbine manufacturers, ExoProtect for ballistic applications. Superyachts are getting bigger and higher, and higher gives a problem to the centre of gravity (COG) of a superyacht. Often higher up the yacht, carbon fibre is used to reduce weight. The carbon footprint of using carbon fibres is enormous and it is not an easy product to work with and has no EOL solution."
"ExoMarine has mechanical properties close to carbon fibre and is made from sustainable materials, styrene free resins. It can repeatedly be recycled without losing any of its mechanical properties in the recycling process. So, therefore, it acts in the circular economy. Another advantage is that ExoMarine doesn't block radio signals as carbon fibre does. In addition to environmental benefits, it also provides a cost reduction over carbon fibre."
Beyond environmental improvements, does your product have any impact on performance (e.g., speed for racing yachts?)
"That is a very good question. In the wide scale of mechanical properties, we have figures often close to carbon fibre and in some cases, DANU is even considerably stronger. An IMOCA or VO65 and bigger racing yachts are made from pre-preg carbon fibres with a Nomex core. An IMOCA in ExoMarine won't perform as well as the latest built ones. My question is, which race do we want to win? Going circular/sustainable and taking steps to keep innovating further? Or just keep continuing as we are currently? I can state that every sailing yacht up to 40′ in carbon fibre can be made out of ExoMarine without losing performance."
Do similar materials exist, and why is DANU composite superior?
"DANU is THE answer to glass fibre. It has mechanical properties 4-5x as strong. Did you know that just in Europe 250.000.000 kg of glass fiber composite (GRP) ends in landfills, just in Europe, every year? That stops when GRP is changed to DANU tomorrow. DANU is the answer to many carbon fibre products. The production process is exactly the same as GRP, so no investments in tooling or education need to be done. Shipbuilders can start now."
Are there any examples of boats that have been built using the composite? or in the works?
"Ultimate Boats in Glasgow, Scotland is using ExoMarine throughout most of their range. A new batch of 10 boats are in production using exclusively ExoMarine. The first launched boat, a 10.5m RIB for law enforcement purposes is considered the best boat to ever leave the yard. The DANU material proves to be so strong that under the roughest conditions at the West Coast of Scotland, the boat behaves full throttle (2x 320hp) without any issues."
What has the reception of your product been like amongst shipbuilders so far, and what main challenges are you facing?
"There is no industry more conservative than the shipbuilding industry. I remember our first meeting at Ultimate Boats, you bounce into resistance. Change is scary, yet using it, testing it… turns into loving it."
What are ExoTechnologies key goals for 2022?
"Our goal for 2022 is to roll out our innovation throughout big players in the fibreglass industry. Not only shipbuilding, we are now talking with wind turbine manufacturers, car manufacturers and high-speed train manufacturers. Basically, our goal is to end GRP production and bend the GRP industry from a linear pollutive one to a circular sustainable one in an economically viable way. And I can say: That is a mission possible
A combined effort
Thank you to Jeroen for providing such fantastic insights and information on how his company are working towards a greener, circular economy. Our key takeaway is that if a sustainable yachting industry is truly achievable, it will take a combined effort from shipbuilders, engineers, innovators, owners, and guests. The next few years will undoubtedly be an exciting time of change and innovation for the industry!